Betty Byczek picked out a 16 week-old Irish Setter and named him Miche. It is a well-known Irish variation for the name Mick.


Miche is now over a year old and he is a wonderful addition to our family.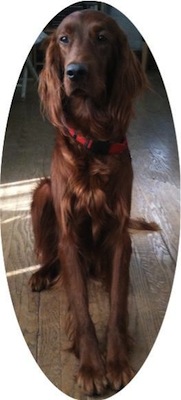 Mick and Betty Byczek Family Genealogy
Betty Byczek family history in Bucktown and Wicker Park
Mozart is the Byczek family cat that was adopted from a Shelter in 1999
The first Irish Setter Tara was purchased from a breeder in 1985
Katie continued her piano studies with works by Weber
The dogs enjoyed playing at the local park district
The third Irish Setter Miche became a family member in 2011
Katie Byczek at Irish dance competitions
Katie Byczek and family
Tennis photos with her family


Copyright © 2016. Betty Byczek. All Rights Reserved.